IPRs ENFORCEMENT
A successful intellectual property strategy is an integration of the registration, commercialization and enforcement of intellectual property.ANPHAMCO have strong mechanisms to detect, deter and combat IP rights infringement. Our members have the high capacity of dealing with infringement or disputes of IP rights . This has reduced processing time and lowered the costs of IP rights infringement case settlement.
Nơw day, IPR Protection and Enforcement in the Digital Age requires new methods and approaches. Under particular circumstances, our experienced patent & trade mark attorneys are able to develop appropriate strategies and tactics for enforcing our client's IP rights. Providing this strategic enforcement advice has been highly beneficial to our clients.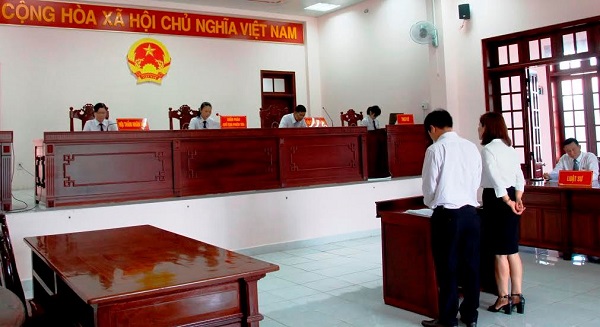 Trial of a civil case related to the trademark "Bao Xuan" at the People's Court of Hau Giang province, Vietnam
Depending on the extent of the violation or dispute, cases may be filed in one of the following ways:
- Administrative Enforcement
To take administrative actions, IPR holders (or their authorised representatives) shall file written requests for the handling of the infringing acts to the competent authorities. The request must be enclosed with evidence on the IPR holders' status and evidence to demonstrate the alleged infringement.
- Civil Enforcement
When initiating a lawsuit, the IPR holder is entitled to request that the Court to apply the preliminary injunctions to goods suspected to be infringing IPRs and raw materials, materials and means for manufacturing and trading such goods if (i) there is a threat of irreparable damage suffered by the IPR holders; or (ii) there is a threat of dispersal or destruction of suspected infringing goods and related evidence if they are not protected in time. Preliminary injunctions include retention, seizure, sealing, prohibiting any alteration of the original state, prohibiting any movement, prohibiting transfer of ownership of the infringing goods, raw materials, materials and means.
- Criminal Enforcement
Criminal enforcement has the severest sanctions with strict penalties against infringers, compared to other enforcement actions.
- Customs Border Enforcement
Customs measures for protection of IP include: Suspension of customs procedures for suspected infringing goods; Inspection and supervision for detecting goods with signs of IP infringement
- Warning Letters
a warning letter to an infringer is considered an initial attempt to notice the infringer of the prior rights of the right holders. A warning letter is normally sent out before any official enforcement action is taken
- Online Enforcement
Decree No. 15/2020/ND-CP have specified administrative penalties for IP-specific violations by websites, social networking platforms, and users.
In fact, most intellectual property disputes in Vietnam are handled through administrative action. Actions that may be taken by relevant government agencies include issuing warnings, fines, confiscation or destruction of counterfeit goods, etc.